Lower Mainland Schools
Secondary educators attended 'Learning Revolution Abbotsford', hosted by Abbotsford Christian High School, on January 13, 2017
Educators were inspired and empowered to rethink education for the 21st century with Sir Ken Robinson, a world-renowned authority on education reform and the number one TED Talk speaker of all time.
Sir Ken Robinson is an internationally recognized authority on creativity and innovation in education and business, as well as a renowned author, speaker and advisor to educators, government bodies and arts organizations all over the world. His famous TED Talk speech, "Do Schools Kill Creativity?" is the most watched TED Talk of all time, viewed online over 40 million times and seen by an estimated 350 million people in 160 countries.
The Educators' Afternoon event was held at 1:00 pm at the Gateway Community CRC for close to 1,200 educators from both public and independent schools. The event offered a pre-event meet and greet opportunity with Sir Ken Robinson for select guests, as well as a question and answer session following his presentation.
Elementary educators were hosted by Richmond Christian Elementary School on February 10, 2017
With Keynote Dr. Stephen Layne: "Confessions of a Reading Arsonist" and based on his book, Igniting a Passion for Reading (stevelayne.com)
With his trademark combination of humor and heart, Steven Layne tackled one of the most significant issues in reading instruction today: How to engage reluctant readers. Teaching the skill of reading is viewed by many educators as a major objective; teaching the will of reading is too often an afterthought. Dr. Layne's charismatic blend of anecdotes and practical suggestions for the classroom are sure to fan the flame of literacy into a raging inferno' inspiring teachers as well as their students to keep the bedside lamp on just a little bit later into the night.
"I started reading the book before going to sleep – but I couldn't put it down. Dr. Layne remind me of why I became an educator; my passion for teaching literacy was re-ignited." Darlene Neufeld, Richmond Christian School
Applicable to all educators who address areas of literacy from Preschool to Grade 7, EA's and librarians included.
Location: Richmond Christian School, Elementary Campus (5240 Woodwards Road, Richmond, BC, V7E 1H1)
Middle school educators were encouraged to attend January 13 or February 10 based on the theme that best fit them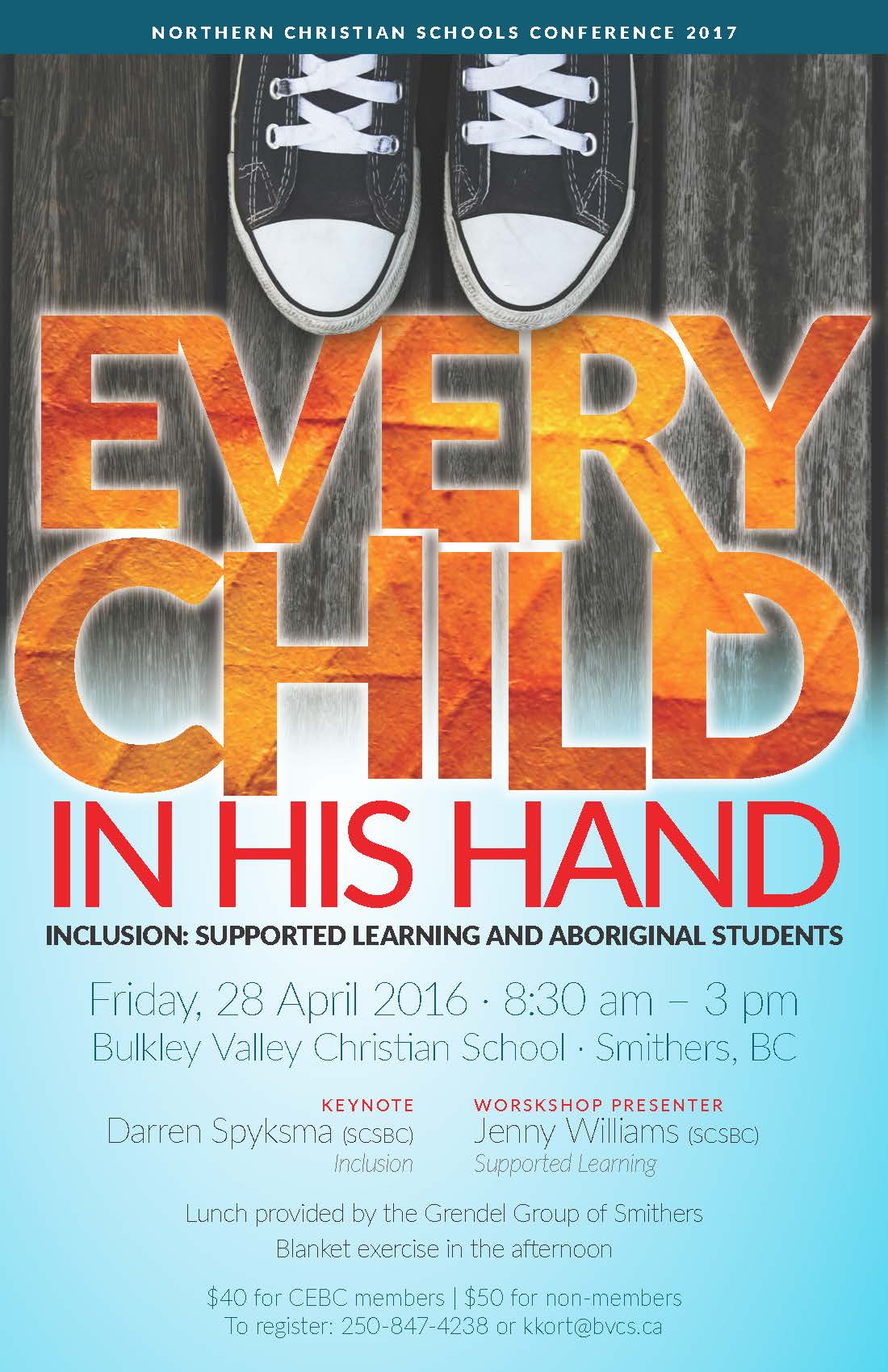 Northern Schools
Every Child in His Hand: Inclusion - Supporting Learning and Indigenous Students
With Keynote Speaker Darren Spyksma and Workshop Leader Jenny Williams
Hosted by Bulkley Valley Christian School in Smithers, BC
Date: April 28, 2017
Time: 8:30 to 3:00 with Blanket Exercise in the afternoon
Lunch provided by the Grendel Group of Smithers
To register, please call 250-847-4238, or e-mail kkort@bvcs.ca
Okanagan Schools
Stay tuned for details of this event!
Vancouver Island Schools
Hosted by Duncan Christian School
Featuring Keynote Speaker Shelley Moore
Location: Christian Reformed Church, 930 Trunk Rd, Duncan, BC V9L 2S1
DATE: February 14, 2017
Based in Vancouver, British Columbia Canada, self-proclaimed "Inclusion Geek" Shelley Moore consults locally, provincially and beyond. Her presentations include school, district and provincial professional development days throughout British Columbia, as well as various leading conferences throughout North America, including CEC, IRA and NCTE.
Her interactive presentations are constructed based on contexts of classroom, schools and communities and integrate theory and effective practices of inclusion, special education, curriculum and technology. She completed in undergraduate degree in Special Education at the University of Alberta, her masters at Simon Fraser University, and is currently a PhD student at the University of British Columbia.
To attend this event, please contact Duncan Christian School at (250)746-3654.