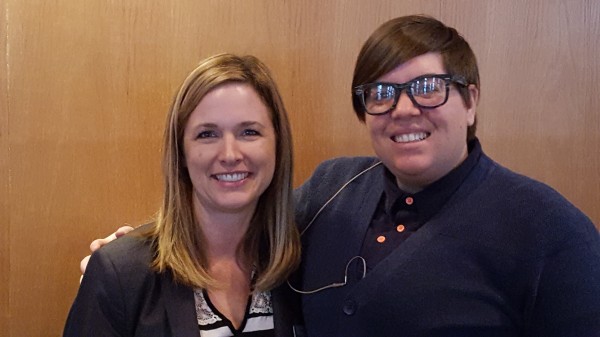 Supporting ALL Students
Keynote speaker Shelley Moore, self-proclaimed "inclusion geek", spoke to educators at Vancouver Island schools on February 14.
As a sought after speaker, I found Shelley to be refreshingly down to earth, and very engaging. Her humour made learning about inclusion and diversity accessible and fun, while at the same time challenging my understanding of what inclusion meant.
In Shelley's words, inclusion is facilitating opportunities for kids to come together as a community on their own, where all students feel as though they belong. Inclusion is when we are all different, and there is no 'other.' Shelley believes the purpose of the classroom is to build community, where all students feel at home, have a place, role, and a responsibility.
I was pleasantly surprised to hear Shelley say that differentiating instruction for 31 students is impossible. The key to differentiation is to ask yourself, 'what do my students need right now, in this time and place?' It is designing learning around what that particular composition of students brings to the table, and anticipating the support they will need. It is finding the range of needs between students in your particular class.
Teachers can use a planning framework to do this, for example, the Response to Intervention, or Planning Pyramid (see Try This!). Using this tool, students' needs are placed into three differently tiered categories, with differing levels of complexity and support required for each.
The base, Tier 1, involves identifying a goal that is accessible to all. This is a question that can be answered by either a 5 year old, or a 95 year old; Tier 2 is adding complexity to the goal; and the tip, Tier 3, is adding even more complexity and challenge onto the goal. This necessitates a responsive, or adaptable curriculum, and not a standardized one. It is a growth focused, not a proficiency or end result focused. It answers, 'what is helping us learn?' not 'what do we need to know?' Here, students learn by using and harnessing what they bring. In Shelley's words, this is the most powerful tool of all.
Tricia Stobbe, Executive Director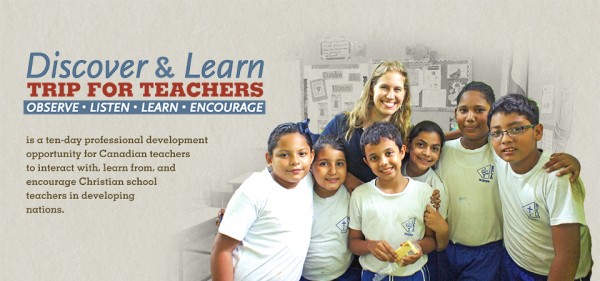 whatyagonnadothissummer?
If you decide to apply for the opportunity at the end of this article, be warned! Seeing the world like you've never seen it before can a terribly wonderful experience.
Leaving the confines and comforts of your summer holiday plans for a new unknown could be quite a stretch. But the dividends on your investment probably will pay you back for a lifetime.
If you haven't taken the time to visit our Christian sisters and brothers who teach outside of the North American school landscape, maybe it's time. Once you see the world like you've never seen it before, you probably will have regrets about how you used to see the world.
On the other hand, you'll soak up the daily wonder of seeing your sisters and brothers serving God's children. You'll marvel at their resourcefulness with limited learning materials. You will be impressed with their confident insistence that God will provide. You'll notice how their teaching is deliberately imbued with biblical worldview.
Check out Edu Deo's Discover and Learn program—a "class trip" for you to interact with, learn from, and encourage Christian school teachers in a developing nation.
Isn't it your time to see things like you've never seen them before?
Apply for EduDeo Discover & Learn. Apply for financial support from CEBC. Please note applications for financial assistance are due April 15th
International Service & Learning Bursary Recipients
Congratulations to educators, James Sijpheer, Sue DeSchiffart, and Brian DeSchiffart from Nanaimo Christian School, who were each awarded a $500.00 bursary to support their work with Santiago Christian School helping unfunded local Christian Schools in Santiago, Dominican Republic during spring break!