Representing ALL Members
On October 6, 2016 at the Annual General Meeting, CTABC members passed, with an overwhelming majority, a special resolution to change the name of Christian Teachers Association of BC to CHRISTIAN EDUCATORS OF BC.
This change came as a result of feedback from last year's strategic planning survey, in order to better reflect and serve all members – teachers and support staff, well.
Logo Unveiled
A fresh, new logo was also unveiled: "Christian" being front and center at the top right, with "Educators" underneath in bold, crisp font; the pencil icon a longstanding symbol of education, and embedded within that an open book, symbolizing the Bible and True knowledge. The colours reflect British Columbia - blue for water and green for the mountains.
Our hope is that you find the new website innovative, easy to navigate, and a helpful place to find the information you are looking for. We would love to hear your feedback!
To request your copy of the 2015.16 Annual General Report, Financial Statements, Strategic Planning document, or Minutes of the AGM, please contact the office: info@christianeducators.ca.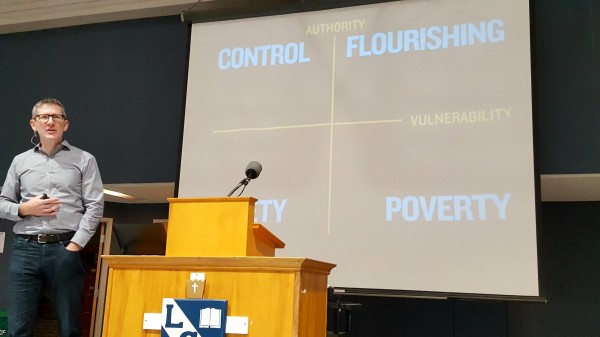 InspirED Convention Highlights
Worshipful. Professional. Communal. These are the goals of the InspirED Convention, and many respondents indicated that these were part of their experience on October 6 & 7. Another tenant of Convention is: "educators educate educators." Indeed, many educators delivered professional workshops and practical, hands-on sessions for other educators to learn from and apply to their practice. Thank you, session presenters, for being vulnerable while leading your colleagues! Andy Crouch inspired over 1,300 educators from BC and Washington with his resonating keynote sessions. Attendees commented on Andy's Keynote and sessions they attended:
The Keynote Speaker Sessions inspired me and encouraged me to continue to use my job to help my students flourish despite their limitations.
Andy Crouch was an amazing speaker. He really made me think about how I can create a flourishing classroom.
(Andy Crouch) provided me with a framework through which to discuss our purpose as Christians with my students and also a way in which to evaluate what idolatry looks like in our lives.
Loved Mr. Harlan Kredit's field trip and tour in his workshop 'Geology and Fossils of the Lower Mainland.' Learned more about this area, how to find fossils, and see hidden gems along the Mt. Baker Highway. Hope to share some of this with my students too. Inspiring, fabulous day!
The session on Building Bridges (Through Understanding the Village) connected with me on both an intellectual and emotional level. Having the opportunity to "live" the historical experience offered me a perspective on colonization and residential schools that I had never before experienced. I am so grateful!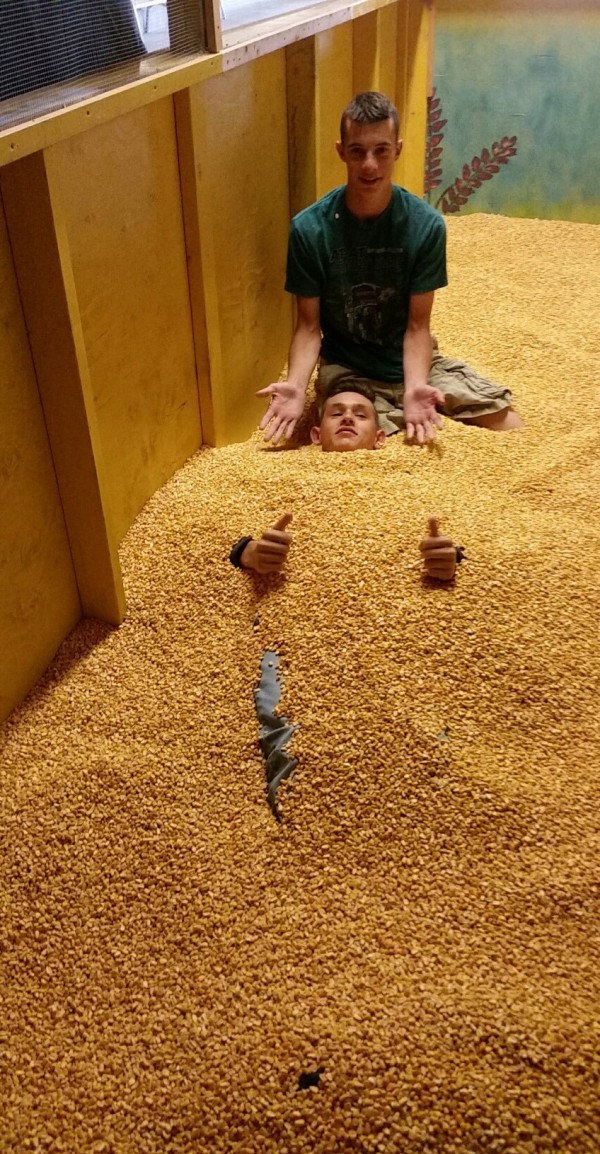 Teacher Feature: Scott Visser, Abbotsford Christian School
So I have been asked to teach Agriculture at my school? Now what?
I was recently asked to consider teaching a course, SRA 12 or "Agriculture." This course has been a mainstay at our school, mostly due to our agricultural base here in the Fraser Valley. I have not taught this course before, and had little experience. This was going to be a steep learning curve for me, as I have become thoroughly urbanized in the last 30 years, and for my students, as I realized that only one student actually lived on a farm. Clearly we would all be new to this Agriculture topic together!
I did have some things working in my favour: a class 4 license with our school mini-bus at the ready, and a vast community resource of capable teachers, ready to be tapped on the shoulder to partner with us. I wasted little time.
After five weeks, we had visited a modern pork operation, Eco-Dairy, a blueberry operation, a greenhouse operation (peppers), a plant nursery, a corn maze, and the Vancouver Zoo. In almost every case, the tour was led by an expert in the field and alumnus of our school community. I can honestly say that the learning that occurred in this format far exceeded anything that I could do in the classroom.
Additionally, students became exposed to exciting career opportunities in the Agricultural sector. From all of their experiential learning, students will be asked to create a major project entitled, "So I bought a farm, now what?" It will ,of course, be enhanced by their on-site experiences to the various farms.
Through taking on this new challenge of teaching Agriculture, a whole new world was opened up to both the class and their teacher!
Try This!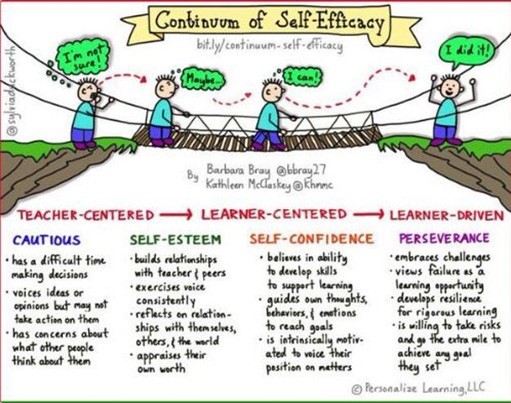 The pedagogical path leading from teacher-centered to learner-driven is an important one and takes time. Below is a continuum showing students' changing mindsets as they move from dependence on their teacher to ownership of their own learning.
Where do your students fall along this continuum?
How can you help guide students from 'cautious' to 'perseverant'?