Membership at a Glance
Since its inception in 1960, Christian Educators of BC has continuously expanded and evolved into a trusted professional organization and invaluable resource for 1,600 educators in 45 independent Christian school campuses in BC. Our members live in communities in the Lower Mainland, Northern, Interior and Island regions of the province, and work in unique Christian schools of varying sizes, organizational cultures and demographics. CEBC provides a unifying voice by representing, supporting, and connecting members across BC, as well as advocating on behalf of members for the advancement of the profession as a whole.
Benefits of Membership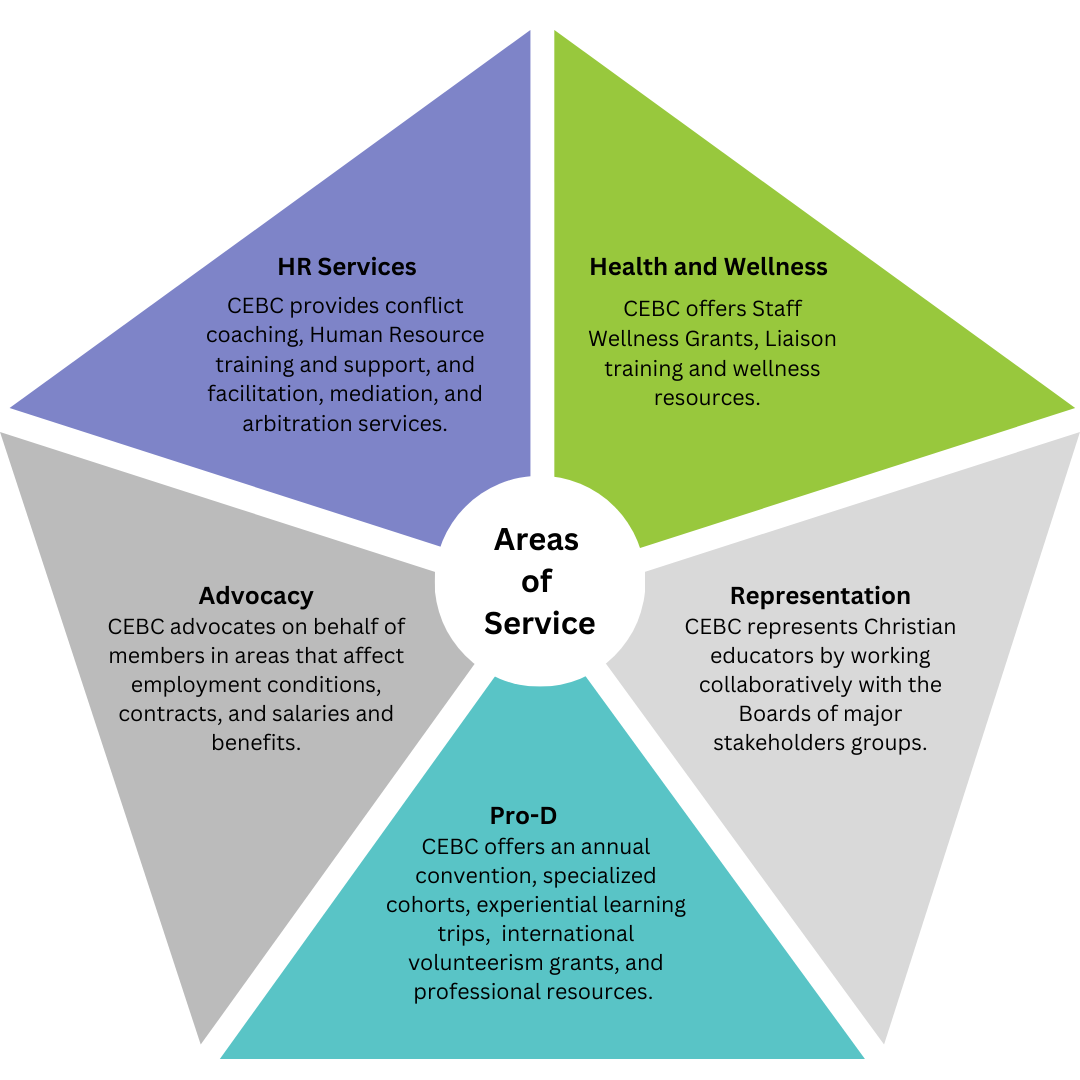 Christian Educators of BC provides members with:
Professional growth and networking opportunities tailored to Christian educators.
Discounted registration rates for our annual InspirED convention.
Health and wellness support and grants.
Employment relations coaching and conflict resolution services.
Links to professional resources.
Access to a vast array of resources on our website.
Monthly e-newsletters that highlight content relevant to Christian educators.
Collectively, CEBC also advocates for members on the committees that consider employment conditions, workplace policies, and determine and recommend salaries and benefits. We work collaboratively with and sit on the Boards of major stakeholder groups, giving Christian educators a voice in the decision-making arenas of education in BC.
Member Eligibility
To be eligible for CEBC membership, you must currently be working with students and employed at an independent Christian K-12 school in BC. Educators serving in the following roles qualify for membership:
Teachers
Learning support staff
English language learning teachers
Early learning educators
Librarians
Administrators
CEBC also offers Honorary Membership for members who have retired from service at a Christian school in BC.
Join Us!
If you are interested in becoming a member of CEBC or would like more information, please contact us or complete the "Become a Member" form.